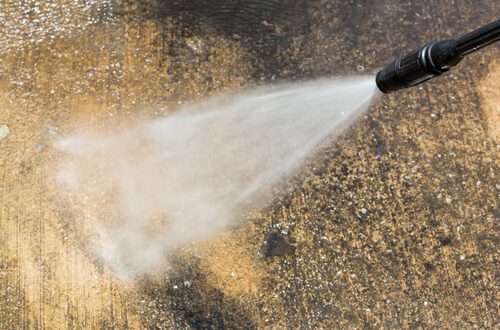 Pressure washing is a cleaning method that uses pressurized water to clean the exterior of business and residential locations. It's an effective method for cleaning driveways, roofs, fences, and many many other things. While it is often done to clean surfaces, it's a preferred cleaning method because it offers several benefits. Here are seven benefits of having your home pressure washed.
Keeps Your Home in Good Condition
It's not uncommon for homes to develop algae, moss, mold, and mildew growth along the exterior. These growths can not only ruin the appearance of the home's exterior, but also can cause substantial damage as well.
Moss and algae can grow into the home's surface and chip away at the home's exterior. A high-pressure cleaning will easily remove any mold that's on the home's surface. The removal of any exterior growth is an effective preventative maintenance task.  Doing so regularly can save you from many expensive home repairs.
Helps to Improve the Health of the Home's Inhabitants
Having the exterior of the home cleaned regularly can actually help to remove health hazards from around the home. Mildew and mold may adversely impact a person's health. Removing these items from around the home may reduce the threat to a person's health.
If someone in your home suffers from allergies, it's especially important to consider having the home's exterior washed. You may blame the flowers and plants near your home watery eyes and sneezing. However, it's possible there are areas of mold and mildew clinging to your home that are the real culprits.
When a professional service, like ProGreen Carpet, cleans the exterior of your home, it will absolutely remove many potential allergens for the inhabitants.
Increases The Curb Appeal Of Your Property
If you are interested in selling your home, having the layer of dirt and grime removed will absolutely aid in the process. Curb appeal is huge for potential buyers. A home with a clean exterior will impress buyers and will more than likely sell more quickly.
Cleaning the exterior of your home is relatively inexpensive but yields a tremendous return.
Pressure Washing Is Key During Exterior Paint & Stain Projects
A high-pressure cleaning will prepare exterior surfaces by removing any peeling paint and excess debris.
Prior to any paint or stain being applied to a surface, its extremely important to prep the surface by cleaning it. Pressure washing exteriors is the most effective way to accomplish this.
Failing to do so prior to painting or staining may ruin the project completely. Or could likely significantly decrease how long the improvement would have lasted if prep work was done correctly. Stain has problems penetrating a soiled surface. Paint will not be able to properly adhere to dirty surfaces.
It's Environmentally- Friendly
Heavy-duty exterior cleaning often involves the use of hazardous chemical cleansers. While these cleaning solutions are effective, the chemicals are harmful to the environment.
Pressure washing does not introduce harmful chemicals to the environment. The high velocity of the water is powerful enough to remove stains. The force created by the pressure washer means using less water to create a greater impact. Estimates state that pressure washers use 75% less water than other cleaning methods.
Requires Less Effort & Yields Higher Results
Other cleaning methods require a lot strenuous physical activity as well as tons of time. Unfortunately, these  other methods yield no where near the level of results that pressure washing  does.
With a professional pressure washer, you eliminate the majority of the cleaning effort without sacrificing the desired outcome.
Pressure washing in one of the most affordable things you can do to improve the appearance of your home. It's a good idea to have your home pressure washed at least once a year.
Contributed by: Pro Cleaning Contractors – Formost Experts in Pressure washing and professional home cleaning services.